Description
Longer runtime = more recreation time with the RB100. This 12V 100Ah deep cycle lithium battery is the perfect replacement from a group 31 AGM, GEL or lead-acid Battery. Weighing in at only 30 lbs it's a lightweight alternative to lead-acid and one of our most popular lithium batteries. Now improved protection with an IP67 ingress protection rating, which completely repels dust and resists water ingress for up to 30 minutes submerged at 1 meter.
The RB100 surpasses expectations by being versatile, compact and more powerful than its lead-acid counterparts. It's the perfect combination of size and capacity to fit many applications including, RV, marine, solar energy systems and more.
RELiON lithium batteries provide more energy for high consumption than traditional lead-acid batteries. They also offer ultra-fast charging and discharging, high efficiency and longer cycle life – plus no maintenance!
Not all lithium batteries are created equal. All RELiON Batteries use the safest and most stable components, including a LiFePO4 cathode and a built-in Battery Management System (BMS). The BMS ensures a long lifetime, safe handling – and high-accuracy State of Charge (SOC) calculations.
PRODUCT SPECIFICATIONS
Voltage: 12.8V
Amp Hours: 100Ah
DIMENSIONS & WEIGHT
Length: 13 in (329 mm)
Width: 6.8 in (172 mm)
Height: 8.4 in (214 mm)
Weight: 26.4 lbs (11.98 kg)
APPLICATIONS
AWP
Backup Power
Electric Vehicles
Floor Machines
Marine
Recreational Vehicles
Solar
ELECTRICAL SPECIFICATIONS

Nominal Voltage
12.8 V
Nominal Capacity
100 Ah
Capacity @ 25 A
240 min
Energy
1280 Wh
Resistance
≤ 30 mΩ @ 50% SOC
Efficiency
99%
Self Discharge
<3% per Month
Maximum Batteries Connected in Series
6
MECHANICAL SPECIFICATIONS

Dimensions (L x W x H)
13.0 x 6.8 x 8.8" (329 x 172 x 223 mm)
Weight
26.4 lbs (11.98 kg)
Terminal Type
M8 x 1.25
Terminal Torque
80 - 100 in-lbs (9 - 11 N-m)
Case Material
ABS
Enclosure Protection (Waterproof Rating)
IP67
Cell Type - Chemistry
Cylindrical - LiFePO4
DISCHARGE SPECIFICATIONS

Maximum Continuous Discharge Current
100 A
Peak Discharge Current
200 A (7.5 s ±2.5 s)
Discharge Over-Current Protection
280 A ±50 A (9 ±4 ms)
Recommended Low Voltage Disconnect
11.0 V
Discharge Under-Voltage Protection
8.0 V (2.0 ±0.08 vpc) (140 ±60 ms)
Reconnect Voltage
9.2 V (2.3 ±0.1 vpc)
Short Circuit Protection Response Time
200-600 µs
CHARGE SPECIFICATIONS

Recommended Charge Current
5 A - 50 A
Maximum Continuous Charge Current
100 A
Maximum Charge Current 14 to 32*F (-10 to 0*C)
≤0.1 C (10 A)
Maximum Charge Current -4 to 14*F (-20 to -10*C)
≤0.05 C (5 A)
Recommended Charge Voltage
14.2 V - 14.6 V
BMS Charge Voltage Cut-Off
15.6 V (3.9 ±0.025 vpc) (1.1 ±0.4 s)
Reconnect Voltage
15.2 V (3.8 ±0.05 vpc)
Balancing Voltage
14.4 V (3.6 ±0.025 vpc)
TEMPERATURE SPECIFICATIONS

Discharge Temperature
-4 to 140 ºF (-20 to 60 ºC)
Charge Temperature*
-4 to 113 ºF (-20 to 45 ºC)
Recommended Storage Temperature
23 to 95 ºF (-5 to 35 ºC)
BMS High Temperature Cut-Off
176 ºF (80 ºC)
Reconnect Temperature
122 ºF (50 ºC)
*Refer to charge currents below 32°F (0°C)
COMPLIANCE SPECIFICATIONS

Certifications
CE and UKCA (battery)
UN38.3 (battery)
UL1642 (cells) (File# MH64523)
IEC62133 (cells)
Shipping Classification
UN 3480, CLASS 9
PERFORMANCE CHARACTERISTICS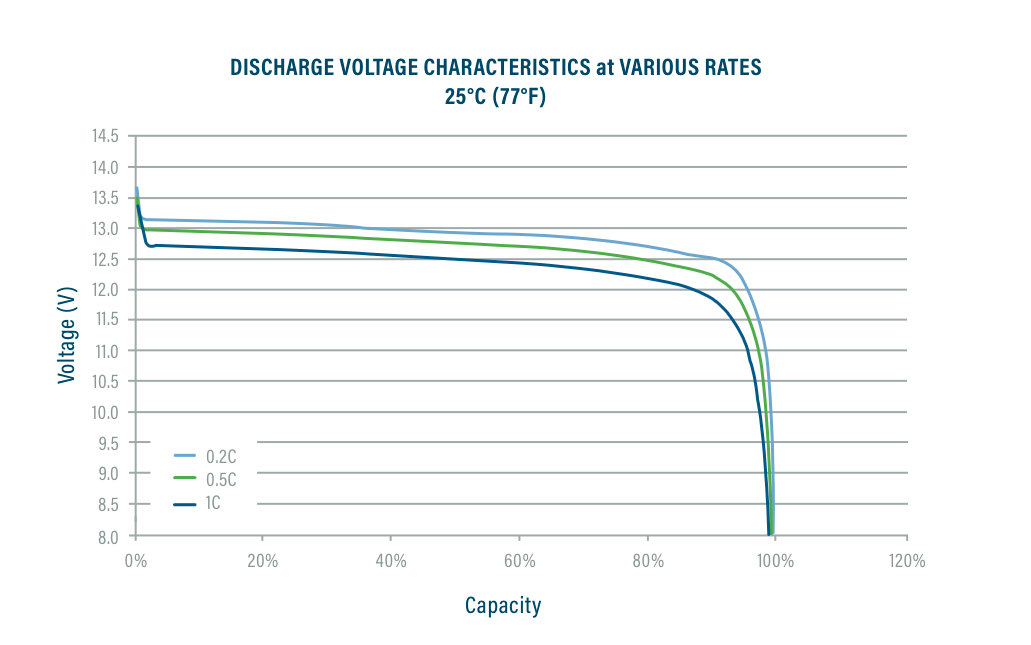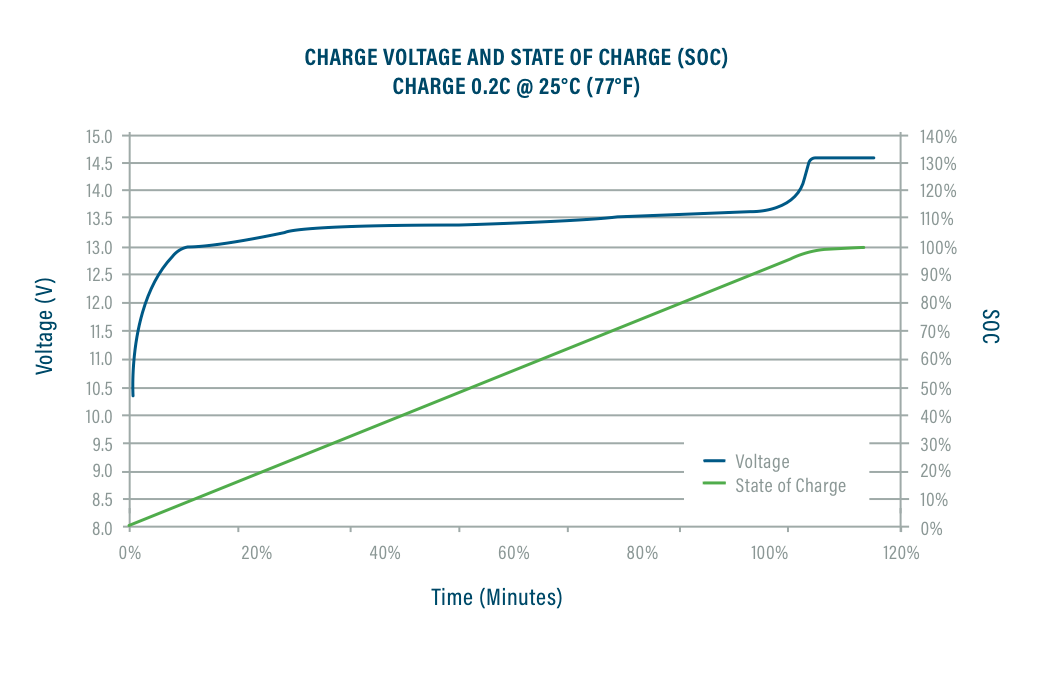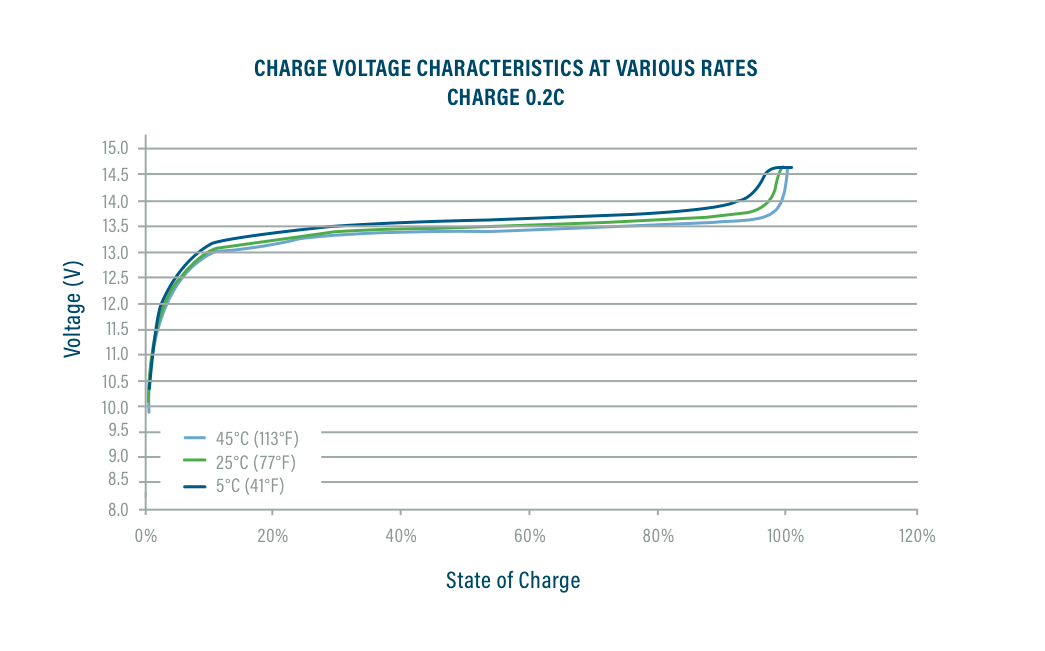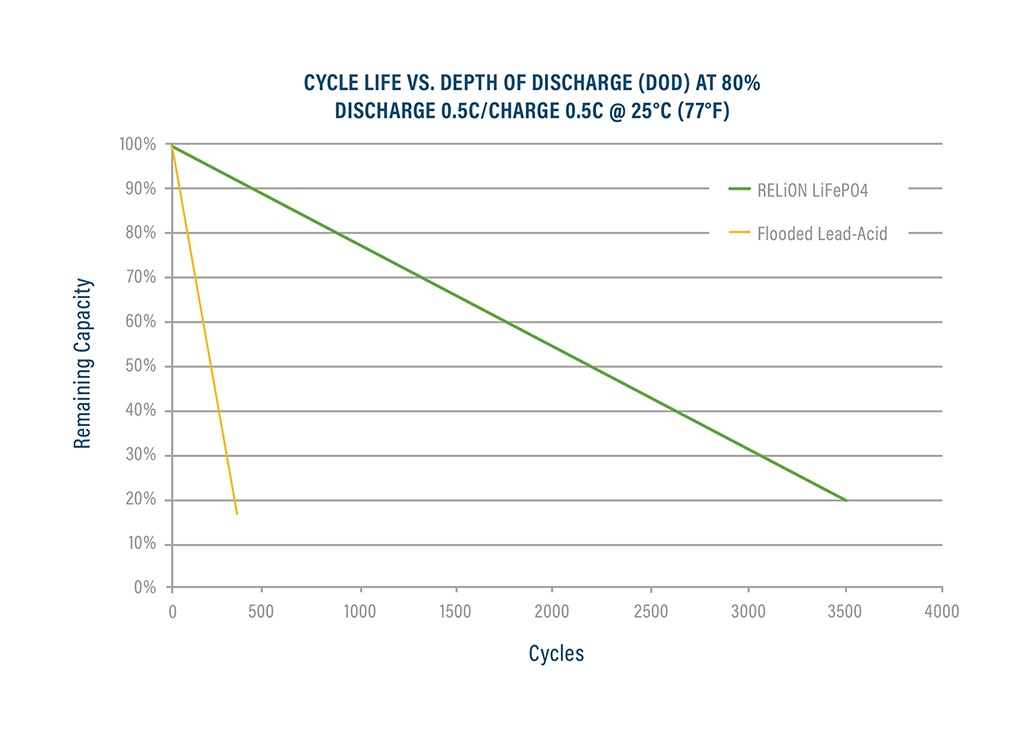 Partial State of Charge Tolerant (PSOC)
Lower Overall Total Cost of Ownership